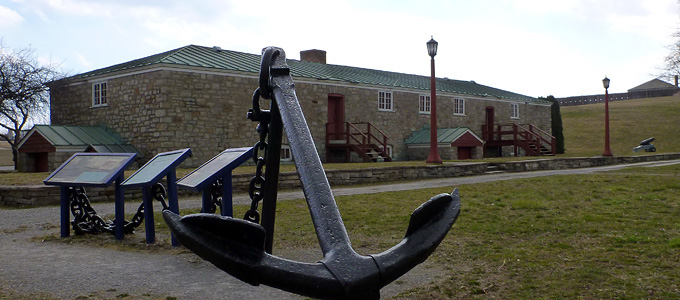 Navy Hall
In 1765, British naval craftsmen from Fort Niagara erected a barracks on the opposite side of the Niagara River. Over the years several buildings, known collectively as Navy Hall, evolved into a large military complex and became a key supply depot for British forts on the upper Great Lakes. During the American Revolution, the Provincial Marine wintered at Navy Hall and, in 1792, Lieutenant-Governor John Graves Simcoe converted one of the buildings into his residence. Navy Hall was destroyed by American forces during the War of 1812. After the war, the British reconstructed some of the buildings, of which one still survives.
Navy Hall Rental Information
Located along the picturesque Niagara River in Niagara-on- the-Lake, Navy Hall provides an intimate and unique setting for your wedding, special event, or meeting.  Available throughout the year, Navy Hall's rustic charm brings each season to life! If you are interested in setting up a viewing of Navy Hall, or booking it for your special event, please contact Parks Canada at 905-468-6614, or by email at ont-niagara.pc.gc.ca.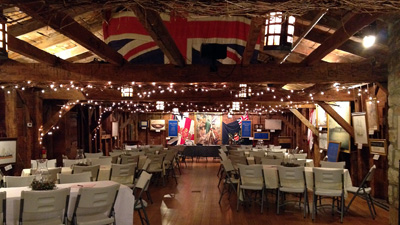 Navy Hall can accommodate up to 80 guests for a formal dinner, providing an intimate setting for your special event! If you would like to have part of your special event outside, you can set up a tent on the grounds of Navy Hall provided the location and size are discussed prior to set up.
The Décor of the building is up to you, allowing you to make your special event truly unique!  There are 15 rectangular tables (6 feet long) and 100 chairs available for use.  You can also rent your own furniture if it is more suitable to your event. Groups are responsible for set-up and take down of furnishings.
The choice of caterer is up to you, too! Don't be limited to a traditional menu; serve your guests something they will really enjoy.  With numerous caterers in the Niagara Region, you are sure to find the perfect menu for your event.
Please note:  Rental fees include the use of the building, parking lot and grounds.
Location
Navy Hall is located at 305 Ricardo St., Niagara-on-the-Lake, Ontario, LOS 1JO.

View Navy Hall, Niagara-on-the-Lake in a larger map