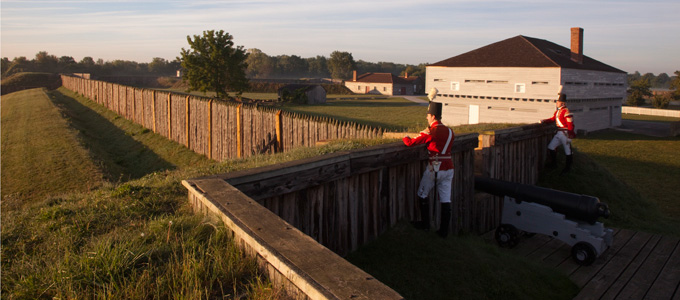 Fort George National Historic Site
Overlooking the Niagara River, Fort George was built between 1796 and 1802. This fortification served as the headquarters for the Centre Division of the British Army during the War of 1812, and played a pivotal role in the defence of Upper Canada. Fort George saw action during the Battle of Queenston Heights, was destroyed and captured by the Americans during the Battle of Fort George, and was reclaimed by the British seven months later.
Today, visitors to Fort George National Historic Site can step back in time to experience the early military history of Niagara. Tour through 19th century military architecture including the Blockhouses, Officers' Quarters, Artificers Shop and Guard House. Make sure to visit the powder magazine, which is the only building to have survived the Battle of Fort George and is the oldest military building in Ontario today! Throughout the summer, experience the sounds of the Fife and Drum Corps, witness the training manoeuvres of the 41st Regiment Infantry unit, taste food prepared over an open fire in the Officer's Kitchen, and witness musket and artillery demonstrations.
Hours of Operation & Admission
May - October: Open daily, 10:00 am - 5:00pm
November: Open weekends, 10:00 am - 5:00 pm
December - March: Open weekends, 12:00 pm - 4:00 pm
April: Open weekends, 10:00 am - 5:00 pm

Please note that last admission of the day is sold 45 minutes prior to closing time.
Admission:
Children (age 5 and under) - Free
Youth (age 6-16) - $5.80
Adults (age 17-64) - $11.70
Seniors (age 65+) - $10.05
Family Group (includes 2 adults, and up to 5 children) - $29.40
Location
Fort George National Historic Site is located at 51 Queen's Parade, Niagara-on-the-Lake, ON.

View Fort George National Historic Site in a larger map

For more information, please call Parks Canada at 905-468-6614 or the Friends of Fort George at 905-468-6621.