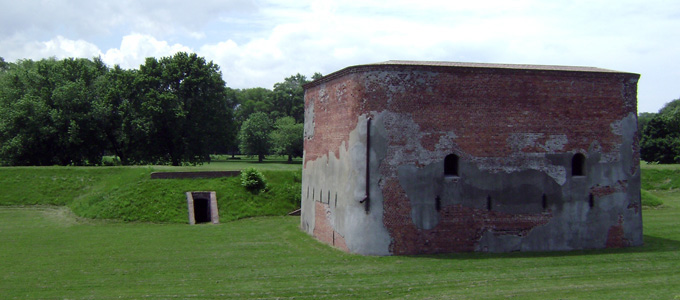 Fort Mississauga National Historic Site
Fort Mississauga was constructed by British forces in 1814 to replace Fort George, which had been destroyed by the invading American forces in 1813 during the Battle of Fort George.  Formerly the site of the first lighthouse in Upper Canada, Mississauga point held a commanding view of Lake Ontario and the Niagara River, and served as a counterpoise to Fort Niagara. The central tower was built in part from the remains of the lighthouse which was dismantled by the British, as well as bricks salvaged from the town after it was burned by retreating American forces in December, 1813.
Over the succeeding decades, Fort Mississauga was garrisoned on a limited and sporadic basis. By 1858, Fort Mississauga had been officially abandoned by the British Army. Volunteer Canadian militia companies reoccupied the fort during heightened periods of tension including the American Civil War and the Fenian Raids. The Fort once again fell into ruins until it was used as part of Camp Niagara during both World Wars.
Today, all that remains of the once impressive fortification is the original central tower, the sally ports and the unique star-shaped earthworks. In 2000, The Friends of Fort George constructed a trail for easier access to Fort Mississauga, located today on the Niagara-on-the-Lake Golf Course. Although the central tower is not open to the public, visitors can explore the grounds and enjoy a magnificent view of Lake Ontario and the opposing Fort Niagara.
Location
Fort Mississauga National Historic Site is located on the grounds of the Niagara-on-the-Lake Golf Club. A pedestrian trail starts at the corner of Simcoe and Front Streets and leads to the fort. This trail was established by the Friends of Fort George, with support from The Millennium Fund.

View Fort Mississauga National Historic Site in a larger map