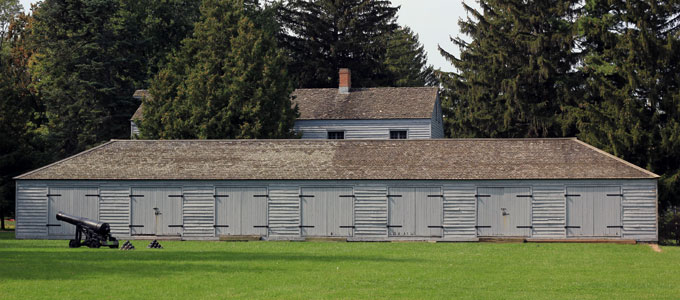 Butler's Barracks National Historic Site
Prior to the War of 1812, the area to the west of Fort George was used by the British Indian Department. A branch of the British Crown, it functioned much like an embassy to the Aboriginal people in the region. Treaties and military alliances were negotiated, concerns raised and issues resolved. The Indian Council House, residences and storage facilities stood here until they were destroyed during the War of 1812. They were rebuilt and used until 1822, when the department ended its activities in Niagara.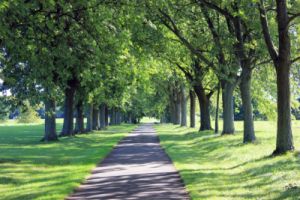 Following the War of 1812, work began on a new range of barracks and storehouses on the south-western edge of the military lands, or Commons, out of reach of the American guns. By 1854, the site was known as Butler's Barracks, named in honour of John Butler and his Butler's Rangers—Loyalist soldiers who had founded the town of Niagara towards the end of the American Revolution. By 1854, there were 20 buildings on the 6 acre site, surrounded by an extensive log palisade. Other buildings were located on the Commons outside the palisade, including the Commissariat Officer's Quarters, the Commandant's Quarters, the Hospital (formerly the Indian Council House) a fuel yard and storehouses. This became the headquarters of British and Canadian defensive efforts in the Niagara Peninsula.
The site was transferred to the new Dominion of Canada in 1871, and it was used as a summer training camp for both regular and militia units. Soldiers who trained here served in the Boer War, World War I and World War II, in the Korean Conflict, and in peacekeeping efforts of the 20th century.
Today, Butler's Barracks National Historic Site of Canada commemorates over 150 years of military activity as Canada evolved from a colony to a nation. Four original British colonial buildings and one Canadian built structure remain on the site.
Location
Butler's Barracks National Historic Site is located in the Commons of Niagara-on-the-Lake, bounded by John Street and King Street, with parking available on John Street.

View Butler's Barracks National Historic Site in a larger map