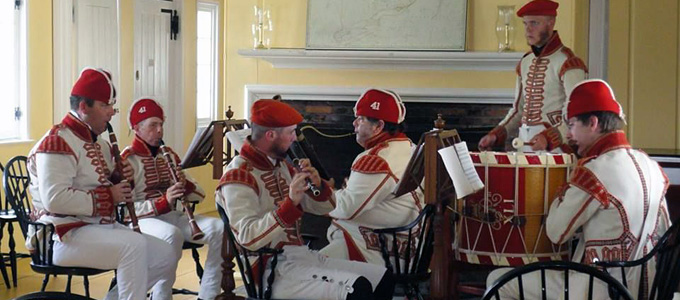 The 41st Regiment of Foot Band of Music
The Fort George Band of Music is a unique musical program at Fort George National Historic Site, which focuses on the more popular, social music of the 18th and early 19th centuries. A Band of Music could be made up of officers, soldiers or civilian musicians, who provided entertainment for the upper classes through concerts, plays and dances.  This music was quite different from the repertoire of the Fife and Drum Corps, whose main purpose was to act as a form of communication on the battlefields. 
The music performed by the Fort George Band of Music comes from several contemporary sources including:
The Shaw Collection, Dedham Massachusetts, c.1805
A once rare historic treatise on the British Napoleonic bands of music by George Farmer c. 1930 with articles on Janissary percussion and definitions for period wind bands
The Yale Exhibition of the Duke of Cumberland's Band of Music Collection
The Cumberland collection is very significant as it comes from one of the most important people and periods of military band music. The Duke of Cumberland's band was one of the best equipped in Europe and was highly influential, leading other bands to copy their style. The collection indicates the types of contemporary instrumentation and common key signatures in use by the early nineteenth century. It also has examples of the most popular music of the day as well as illustrating harmonies and melodies for large ensembles.
Evidence of a Band of Music at Fort George comes from a War Loss Claim issued by Major C. Pleanderleath of the 49th Regiment, after the burning of Fort George in May 1813:
By the Field officers and Captains by the burning of Fort George on the 28th of May or by the Captain of that Post on the 27th May 1813, of all the Musical Instruments and Books belonging to the Band.
14 Clarinets
2 Bassoons
10 Flutes
2 French Horns
1 Trumpet
1 Serpent
1 Kettle Drum
1 Pair of Triangles
A Chest of music books
I certify upon my honour, that the above, to the best of my knowledge and belief, is a true and correct statement (signed) C. Pleanderleath, Major 49 the Regiment.
Musicians
The Fort George Band of Music is made up by the following musicians:
Gavin Watt - Clarinet, Flute
Peter Alexander - Bassoon, Serpent
Peter Mitchell - Clarinet, Flute
Patrick Dowd - Flute
Jeremy Roper - Flute
Cameron Fowler - Percussion