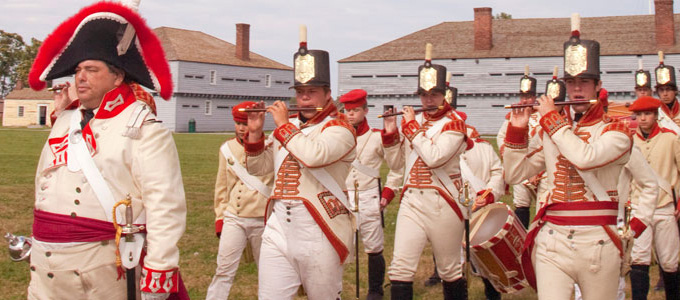 The Fife & Drum Corps
Over the past 25 years, the 41st Regiment of Foot Fife and Drum Corps have become an icon of Fort George National Historic Site. Throughout the summer, Fort George comes to life with the sounds of 18th and early 19th century military music.
The Fife and Drum Corps have participated in the Drummer's Call at Colonial Williamsburg (VA), performed at Louisburg National Historic Site in Halifax, and appear in local community events such as the Canada Day Parade, the Siege of Fort Erie and the Candlelight Stroll.
Each summer, Fife and Drum Corps from across Canada and the United States converge on Fort George for the annual Fife and Drum Muster—a weekend long pageant of military music.
Join the Fife & Drum Corps
The Fife and Drum Corps program has been created for youth between the ages of ten and fourteen. There are no formal music requirements and your uniform and equipment are provided by Parks Canada.
You will receive instruction in drill, music and music ensemble. Once you have memorized and can perform ten fife songs or drum beatings you will be issued with your music equipment and uniform free of charge. When you turn fifteen you can compete for a paid position in the professional Corps.
The only requirements are attendance every Sunday and three days a week including Sundays during the summer from July 1st to Labour Day.
For more information, please contact Drum Major Peter Alexander at 905-468-6617 or Peter.Alexander@pc.gc.ca.
History of the 41st Regiment of Foot Fife & Drum Corps
The young men who served the English Crown during the 18th and 19th century as fifers and drummers were disciplined, courageous and held positions of responsibility. Sons of soldiers, they were old enough to take on a role in the regiment and its daily functions. It was up to these professional musicians to act as a communication system and as musical entertainment for the army. They played music to inspire the men, remind them of home, and to help them deal with the hardships of military life.
As duty drummers (a name used both for fifers and drummers), they took turns on a 24-hour guard shift and were expected to know and be able to beat play any Order at any time. Incompetence was not tolerated. They beat performed their duty calls every day, starting with Reveille to wake the garrison, and ending with the Taptoo to warn that the gates of the garrison were to close for the night.
Fifers and drummers could also be called upon to act as musical entertainment for social gatherings for both officers and civilians. They could act as a band of music when a professional orchestra or a regimental band could not be provided. Tunes like Chain Cotillion could be played for dances, or more traditional music such as the Gravelwalk could be played in taverns for civilians. But this more peaceful existence was always combined with their duties as military drummers.
Fifers and drummers were expected to perform as communicators in battle or act as stretcher bearers. In many cases, they died alongside the soldiers. Surprisingly, the majority of drummers were enlisted before the age of thirteen.  
As members of the 41st Regiment of Foot Fife and Drum Corps, we are proud to be a part of this musical tradition that was so prevalent in Canada during the 19th century. We hope that our efforts will help to rekindle people's interest in Canada's history and inspire them to take part in its ongoing traditions.