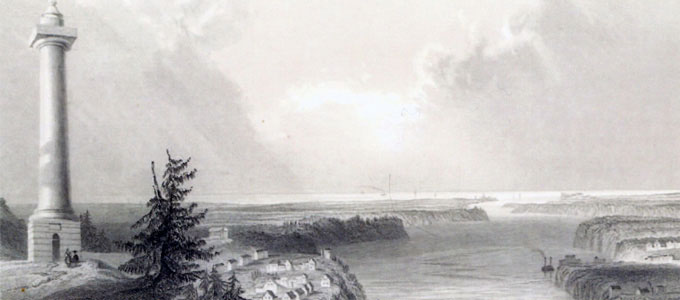 History of Brock's Monument
Construction of the first monument to Brock began on June 1, 1824. On October 13, 1824, Major General Sir Isaac Brock's body was removed from the bastion at Fort George and interred under Brock's Monument in a solemn event. Over 8,000 spectators gathered to watch the procession along the route from Fort George to Queenston. By 1827, the tower was completed and measured 40 metres in height. Throughout the 1820's and 1830's, the first Brock's Monument became a popular tourist destination for early travellers to Upper Canada.
On April 17, 1840, Brock's Monument was severely damaged by a bomb set off at the base of the stairs. It was suspected that the charge detonated by Benjamin Lett, an American sympathiser who was part of the Upper Canada Rebellion. The monument's architect, Francis Hall, insisted that it could be restored. However, many felt that a new tower should be erected to highlight their respect for Brock, and the indignation they felt towards the vandalism.   
Construction on the second monument to Major General Sir Isaac Brock began in 1853.  Designed by William Thomas, the Monument was built entirely out of Queenston limestone, measures 56 metres in height, and was opened to the public in 1859.  Each year, thousands of visitors from around the world visit Brock's Monument National Historic Site, learning about the early history of Canada, and the role Major General Sir Isaac Brock and the Battle of Queenston Heights had in shaping its destiny.