Upcoming Events
Be a witness to history! Join the Friends of Fort George and Parks Canada for special events that celebrate the history of Niagara. New events are listed frequently throughout the year, so be sure to check back often. You can also stay up to date about events by joining us on Facebook and Twitter.
For more information about any of these events, please contact us.
---
Echoes of Niagara's Past: Military Timeline Event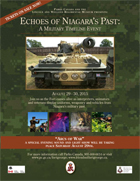 August 29 & 30, 2015
Join us as Fort George and the Lincoln and Welland Regimental Museum commemorate over 200 years of Niagara's military history. The Fort will come alive as interpreters, animators and veterans display uniforms, weaponry and vehicles from the War of 1812, World War I, World War II and many more. Demonstrations will be happening throughout the day inside Fort George.
For more information call Parks Canada at 905-468-6614.
---
Grand Canadian Steampunk Exposition
September 25 - 27, 2015
An exposition of Canadian Steampunk grandeur, a festival of epic proportions, sites and sounds to entertain and delight...all this and more! Three days of Canadian Steampunk featuring an evening concert with many performers to be announced.
For admission/ticket and hotel information, please visit www.canadiansteampunk.com or call 905-525-6303.
---
Battle of Queenston Heights Commemorative Tours
October 10 & 11, 2015
Join the Friends of Fort George and Parks Canada as we commemorate the 203rd anniversary of the Battle of Queenston Heights and the death of Major General Sir Isaac Brock. Brock's Monument National Historic Site will be open from 10:00 am to 5:00 pm all weekend. Join us for guided tours of the battle site at 11:00 am, 1:00 pm and 3:00 pm, climb the 235 steps to the top of Brock's Monument and enjoy the scenic view of Queenston Heights and the Niagara River!
Call the Friends of Fort George at 905-468-6621 for more information.