Upcoming Events
Be a witness to history! Join the Friends of Fort George and Parks Canada for special events that celebrate the history of Niagara. New events are listed frequently throughout the year, so be sure to check back often. You can also stay up to date about events by joining us on Facebook and Twitter.
For more information about any of these events, please contact us.
---
Hands on History: Fire a Musket at Fort George!
June - August, 2014
Have you ever wanted to fire a musket? Now you can at Fort George National Historic Site! Experience the thrill of firing a musket through the Hands on History Program at Fort George. New this year, Fort George is offering an experience like no other! For only $22.00, visitors get to dress in a British Red Coat, and are instructed in the firing of a musket by a costumed interpreter.
Hands on History is available every weekend throughout June at 11:00 am, 1:00 pm and 3:00 pm, and regularly throughout the week in July and August.
Fire two shots for $22.00 (price includes admission).
Call Parks Canada at 905-468-6614 for more details!
---
Fife and Drum Muster and Soldiers' Field Day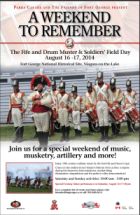 August 16 - 17, 2014
Fife and drum corps and infantry units from historic sites across Canada and the United States will converge on Fort George National Historic Site, showcasing the military music and drills of the early 19th century. This weekend-long event has become an annual tradition at Fort George, and is packed with firepower demonstrations, music and entertainment.
Call Parks Canada at 905-468-6614 or the Friends at 905-468-6621 for more information.
---
Pride & Prejudice Tea Party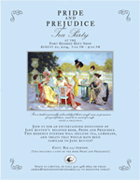 August 20, 2014
Join us for a fun and entertaining discussion of Jane Austen's most beloved book, Pride and Prejudice. This Regency evening will include tea, lemonade and treats from the early 19th century! At the end of the discussion, the Friends of Fort George Gift Shop will be open for an exclusive shopping experience. All participants that come dressed in Regency fashion will receive a 10% discount in the store!
Cost: $15.00/person (this includes a copy of the book Pride and Prejudice).
Space is limited, so call 905-468-6621 or email admin@friendsoffortgeorge.ca to register today!
---
Echoes of Niagara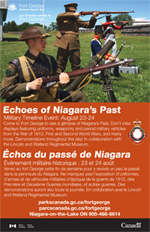 August 23 - 24, 2014
Join us as Fort George and the Lincoln and Welland Regimental Museum commemorate over 200 years of Niagara's Military History. The Fort will come alive as Interpreters, Animators and Veterans display uniforms, weaponry and vehicles from the War of 1812, WWI, WWII and many more. Join us as we commemorate the 100th anniversary of the declaration of The Great War (World War I) when the grounds of Fort George were used to train Canadian Soldiers that were sent to Europe. Demonstrations will be happening throughout the day inside the imposing walls of Fort George.
Regular admission rates to the Fort apply. Please check the website for updates.
---
Polo Niagara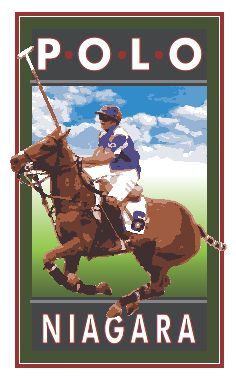 September 6, 2014
The Friends of Fort George, in partnership with The Toronto Polo Club, will present two four-chukker games plus a half-time show on the Common. Join us for an entertaining afternoon of the "King's sport". Funds raised will benefit the Friends of Fort George, supporting student summer heritage positions at Fort George and Brock's Monument National Historic Sites.
General Admission: $10
Visit our Polo Niagara page for more details.
---
Grand Canadian Steampunk Exhibition at Fort George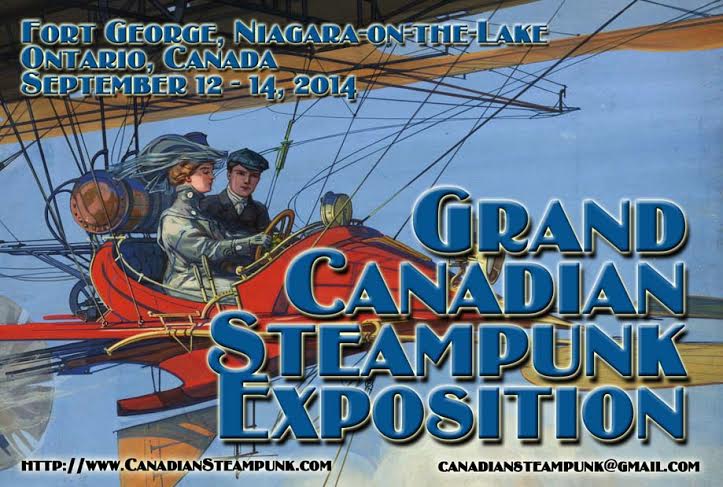 September 12 - 14, 2014
Music from all over the continent and across the pond! The finest artisans from across the country! Performances to astound and amaze! Activities and workshops, and much, much more!
Visit the Grand Canadian Steampunk website for more details.
---
Fort George Garrison Christmas
December 13 - 14, 2014
Fort George will be the site of a family holiday event that will include activities, crafts and games for all to enjoy! Hot beverages and treats, as well as scheduled musket demonstrations will be provided. General admission rates apply.
Call Parks Canada at 905-468-6614 for more information.