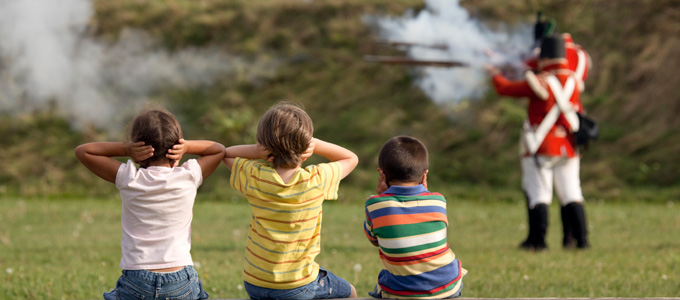 Educational Programming at Fort George
Parks Canada offers educational programs at Fort George National Historic Site for schools and interested groups, including guided tours, day programs, and overnight programs! Step back in time and learn about the War of 1812, the way of life of a British soldier in Upper Canada.
Guided Tours
Within the fort you return to Fort George before the War of 1812. Historic interpreters in period clothing, meet and guide your group through an orientation to the site, the lifestyles of soldiers, officers, families and civilians who inhabited or worked at the Fort. A tour includes the Soldier's barracks, Officer's Quarters and a musket demonstration.
Tours are scheduled on the hour every hour from 10:00 am - 4:00 pm
Complimentary pass for one chaperone for every 10 students/youths
Site Tours are one hour in duration
Maximum 100 students per hour
For information or bookings please call 905-468-6614 or email ont-niagara@pc.gc.ca.
Day Programs
The Day Program starts at 10:00 am, and offers a more intensive look into life as a soldier on the Niagara Frontier. Students are issued a redcoat and they (and the Barracks space where they can store their lunch and personal items) will be inspected periodically by costumed staff. Students get to go on a tour of the Fort, and participate in two 40 minute workshops in the afternoon. The program concludes at 2:00 when the coats are returned and the group leaves.
Day Program runs from 10:00 am until 2:00 pm
Lunch is not provided - please bring your own. We do provide a heated place to have lunch.
Maximum 60 students for this programme
Complementary pass for one chaperone for every 10 students/youths
For information or bookings please call 905-468-6614 or email ont-niagara@pc.gc.ca.
Overnight Programs
The Overnight Program at Fort George is one of the most memorable experiences that a group can have. Students use a period barracks space (segregated quarters, heated space with foam mattresses), are issued with redcoats, and perform the duties of an 1812 soldier. Groups have a choice of three workshops in the afternoon, some free time and choice of two workshops in the evening. Three meals (lunch, dinner and breakfast) are provided by a caterer. There are modern washroom facilities (including showers) very close to the barracks. Security in the evening is provided by a security guard. We have a selection of co-operating sites that we can call to help you book second day activities if you are interested.
The Overnight Program runs from 10:30 am until 9:30 am the next day
Minimum for this program is 25; maximum is 60.
A $200.00 deposit is required at the time of booking
A list of workshops is available when booking this programme.
We offer reduced prices for chaperones once the minimum of twenty-five (25) full-price participants have registered.
All participants bring their own sleeping bags and pillows; no bed linens provided.
For information or bookings call 905-468-6614 or email ont-niagara@pc.gc.ca.