The Friends of Fort George
Located in the historic town of Niagara-on-the-Lake, Ontario, Fort George was the headquarters of the Centre Division of the British Army during the War of 1812, and played a key role in the defence of Upper Canada. Fort George is open weekends November to April, and seven days a week from May to October, offering visitors an opportunity to step back in time with tours, musket demonstrations, special exhibits, costumed staff and reconstructed buildings. Throughout the summer, the 41st Regiment of Foot Fife and Drum Corps and Infantry provide daily demonstrations, bringing the early history of Niagara to life!
The Friends of Fort George is a non-profit organization that works in partnership with Parks Canada to preserve and promote the heritage of Niagara National Historic Sites. Through special events and the operation of two gift shops, the Friends of Fort George generate awareness and funds to support summer student employment at Fort George and Brock's Monument at Queenston Heights.
Now Available!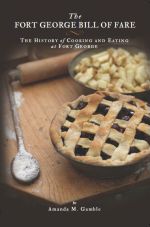 The Fort George Bill of Fare, by Amanda Gamble, is a companion to the historic cooking program at Fort George National Historic Site. The first section of the book provides the reader with a comprehensive overview of the cooking facilities at Fort George, the foods cooked and eaten by the Soldiers and Officers; and the social aspects of the Soldier's and Officer's Mess. The second half of the book features over 70 recipes dating from the late 18th to the early 19th centuries, with modern adaptations for 40 of these recipes.
Copies of the Fort George Bill of Fare are available at the Friends of Fort George Gift Shop.
Upcoming Events
Beefsteak Society Dinner
Novembe 19, 2016
Join the Friends of Fort George for a special fundraiser dinner, which will be fashioned after the popular Sublime Beefsteak Society of England. More info.
Fort George Garrison Christmas
December 10 & 11, 2016
Immerse yourself in the sights, sounds and delectable aromas of a Regency Christmas during Fort George National Historic Site's weekend-long Garrison Christmas program. More info.
New Year's Day Levee
January 1, 2017
Join us at Navy Hall on January 1, 2017, from 3:00 to 4:30 pm as we ring in the New Year! More info.